A tearful goodbye to
AKC/INT CH Bravo's at Lhotse Summit, WSX, RN, THD, CGC, TDIA
"Lhotse"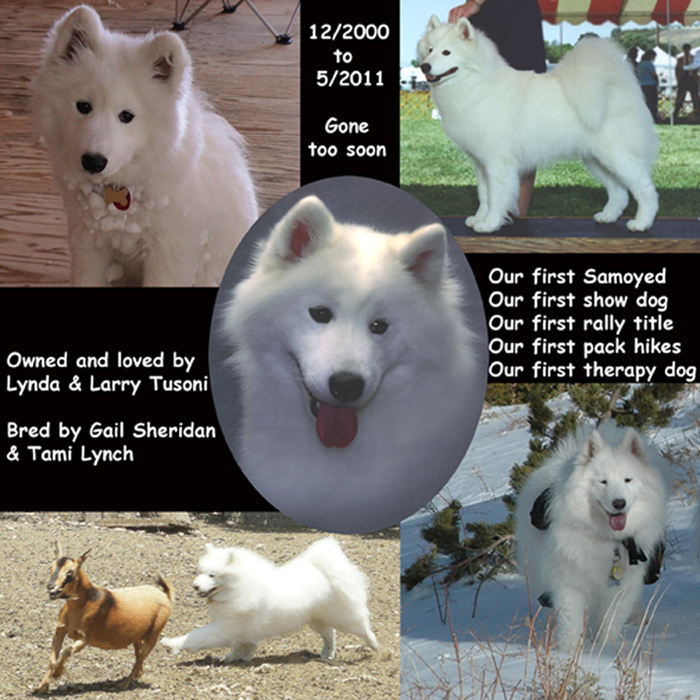 The dawn breaks that fateful morn
The sun begins to rise.
The light slowly leaves you
as we look into your eyes.
We tell you "good girl", and that "we love you",
And I hear you sigh "thank you, and good bye".
Our house is quiet now, the pack uncertain what to do,
Without their leader, without Mama Dog, without Lhotse, without you.
We know you now run healthy again, happy and free,
And until we see you again, we love you Lhotse.   -  Lynda Tusoni
Lhotse lives on through her 5 pups, and 2 grand pups, but will never be replaced or forgotten. Lhotse lost her battle with mammary cancer on May 12, 2011.
We can never thank Gail Sheridan enough for trusting us with Miss Yellow, and for taking care of her for 12 days of her battle with cancer.
I would also like to thank Ann & Jan Schlobohm of White Wolf Samoyeds, for their encouragement, help in training and documentation. Without their friendship, encouragement and help, we would have never worked toward our Rally title, our Working Samoyed title, or attempted herding with Lhotse. She loved them all!
These two beautiful gifts were made from the portrait above, the one on the left was painted by Rosemary Vasquez Tuthill, and the pencil drawing was done by Tylene. Thank you both so much!
Click on either picture for a larger version.
Owner and loved by: Lynda & Larry Tusoni
Angels Camp, California
Email for More information
Member of the
Samoyed Club of America

Designed & Hosted by Goldrush World Access
Copyright © 2003 - 2011
Larry and Lynda Tusoni
All rights reserved